#9.10 - "Hardcore Will Never Die, But You Will"
Prod. #N/A (Original Air Date - 03/14/12)
Dan, Julian and Chris Keller attempt to rescue Nathan. Brooke's conflict with Xavier escalates. Quinn and Clay revisit the past.

"Forests" - JBM
Album: N/A
Official Site: http://www.jbm-music.com
MySpace: http://www.myspace.com/jessemarchant

Scene: FLASHBACK: Clay talks to Quinn about the last thing he said to Sarah.; Clay tells Quinn that she saved him.; Haley watches Nathan's video for Jamie over again.; Nathan's voice over about refusing to beg at his guards, but instead letting them live with their own remorse.



This artist is also heard in episodes #8.03 & #9.09.

"Chameleon/Comedian" - Kathleen Edwards
Album: Voyageur (Zoe)
Official Site: http://www.kathleenedwards.com
MySpace: http://www.myspace.com/kathleenedwards

Scene: Clay talks to Sarah's grave about their son and Quinn before asking for her
assistance to help bring Nathan home and make it the greatest day.; Haley watches old videos of Nathan's press conference.
[ OTH MUSIC @ MYSPACE ]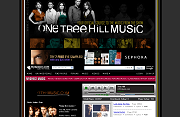 Make sure you add the Official OTH Music Guide on MySpace! Get quick updates about music on the show, exclusives and check out some of the scores from seasons three and four from composer John Nordstrom!