NAME: One Tree Hill Music - The Official Guide to the Music from the Show
URL: http://www.oth-music.com
CREATED: December 15, 2003
BACK STORY

One Tree Hill Music was started before the tenth episode during the first season of the show after we received an outstanding response from fans who desperately searched for "that song" in "that scene". We then began to develop the website after being inspired by DawsonsCreekMusic.com and it's webmaster, Craig who had created a very informative database for the music from "Dawson's Creek".

It's because of websites like DCM.com that provide fans with the songs that help bring their favorite show to life and we're glad OTH-Music.com can be that site for the amazingly dedicated fans of "One Tree Hill".

We're currently in our sixth season of the show and OTH Music with over one-hundred episodes to scan through to and discover a whole new catalog of new songs and fresh artists.


DISCLAIMER/TERMS OF SERVICE

One Tree Hill Music is a fan-operated (designed/maintained) website that is officially endorsed by One Tree Hill. This is a non-profit site. All photos used for graphics, CW/One Tree Hill name and logos are copyrighted to The CW Television Network/Warner Bros/CBS. All original content and graphics are copyrighted to us - please do not remove without permission. All music and artist photos are copyrighted to their rightful owner. No infringement intended. All music on this website is 100% correct and provided by the One Tree Hill music supervision department.

OTH Music has absolutely no control over "browser cookies" that associated websites may store from you. We have no connection with associated online music retailers, we simply link back to them.
CONTACT INFORMATION

If you're an artist/band, management, and/or record label who is looking to submit their music and/or artist for possible placement on "One Tree Hill" - please submit to LukeHits.com.

Do you have any further questions/inquiries? Or would you just like to comment on One Tree Hill Music? Either way, please email us at: webmaster@oth-music.com.

To report broken or missing links at One Tree Hill Music, please email us at: errors@oth-music.com.



CONTACTING THE CAST

If you would like to write to any of the cast members from "One Tree Hill", please use the address below.
Actor's Name
c/o One Tree Hill
Warner Bros.
4000 Warner Blvd.
PROMOTIONAL BANNERS


If you would like to link back to the Official
One Tree Hill Music
Guide from your website, message board or your on-line blog - feel free to use a banner below. We do ask that you save the images to your own server to avoid direct linking. Link Back URL: http://www.oth-music.com.




[ OTH MUSIC @ MYSPACE ]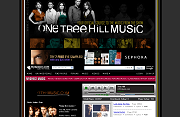 Make sure you add the Official OTH Music Guide on MySpace! Get quick updates about music on the show, exclusives and check out some of the scores from seasons three and four from composer John Nordstrom!