EPISODE TITLE REFERENCES

Every episode needs a title.. you know to set them each apart. It would get kind of confusing if they were just strictly just given a number, the episodes mean so much more then a number. Some TV shows are set apart by movie titles that somewhat describe the episode. But, considering what a staple music is on One Tree Hill, the episodes are identified by song titles. Check them out!
THEME SONG KARAOKE

In an innovative twist for season 8, after a 3 season hiatus, Gavin DeGraw's hit "I Don't Want To Be" returns as the theme song for One Tree Hill with a unique cover by a different singer or band each week. Want the line-up? Get it now!
PEYTON'S WALL OF RECORDS

We've received many emails from fans who were not only inspired by Peyton's music taste, but her decorating skills as well. If you're a fan of Peyton's wall collage of records and would like to know the artist/album for each...check out the list we compiled for you below!
PEYTON'S PODCAST

P.Sawyer happens to be the number one music junkie of Tree Hill, so it's no wonder she includes music into her in-depth podcast. Due to the amount of request, we've compiled a list of songs Peyton has mentioned in her recordings so far! Keep checking back for updates.
CHARACTER MIXES

Check out our collection of songs for your own "Character Mixes"! Here you can find music that best reflects your favorite One Tree Hill character. Go ahead and make your own One Tree Hill CD mix. Discover new sounds, old favorites, and enjoy listening.
ONE TREE HILL - ON TOUR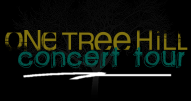 In the spring of 2005, One Tree Hill embarked on their first US concert tour! For the first time, a television show took to the road and showcased the amazing music featured in some of your favorite episodes. Bethany Joy Galeotti ("Haley James Scott"), Tyler Hilton ("Chris Keller"), and the Wreckers (who performed on season 2 episode, #2.13 - "The Hero Dies In This One") headlined the 23-city tour. Along the way, cast members from the show appeared to join their cast-mates on stage and meet the fans. On selected dates, Bryan Greenberg ("Jake Jagielski") and Gavin DeGraw also performed. Check out all the highlights and photos from the tour in this cool section of One Tree Hill Music.
[ BUY NOW ]
'One Tree Hill'
soundtrack

Buy Online:
iTunes | Amazon



'One Tree Hill' Vol. 2
soundtrack

Buy Online:
iTunes | Amazon



'One Tree Hill' Vol. 3
soundtrack

Buy Online:
iTunes | Amazon

Bethany Joy
ft. Enation
Feel This EP

Buy Online:
iTunes | CDBaby