#3.08 - "The Worst Day Since Yesterday"
Prod. #2T6158 (Original Air Date - 11/30/2005)
As the town readies for the Ravens' first basketball game, Lucas worries that his head and heart aren't in it. Nathan accuses Lucas of being the Ravens' weak link. Peyton and Haley mend fences to support Brooke in a time of need. When the mayoral race tightens, Dan resorts to a smear campaign.

"I'm Going To Stop Pretending That I Didn't Break Your Heart" - EELS
Album: Blinking Lights and Other Revelations (Vagrant)
Official Site: http://www.eelstheband.com
MySpace: http://www.myspace.com/eels

Scene: Brooke vents to Haley and Peyton about her night with Chris.

"Motorcycle Dreamer" - Red Letter Days


Scene: Brooke talks to her boss at Suburban Filth about her designs.

"Cracks In The Sky" - Bosshouse
Album: Volume 9
Official Site: http://www.bosshousemusic.com
Listen: Download Clip

(right click + "save target as")

Scene: Chris makes a deal with Dan. / Nathan and Lucas argue in the locker room. / Haley, Chris and Peyton have a confrontation at the studio.



This song is also heard in episode #2.23.


Music from this company can also be heard in episodes #1.00, #1.01, #1.02, #1.03, #1.06, #1.07, #1.15, #1.21, #1.19, #2.02, #2.20, #3.07, #4.08, #4.14, #4.16 & #4.17.

"The Mixed Tape" - Jack's Mannequin
Album: Everything in Transit (Maverick)
Music From the TV Series "One Tree Hill" Volume II: Friends With Benefit (Maverick)
Official Site: http://www.jacksmannequin.com
MySpace: http://www.myspace.com/jacksmannequin

Scene: The Ravens play their first game of the season against the Bear Creek Warriors!



This song and band is also heard in episode #3.15.
[ OTH MUSIC @ MYSPACE ]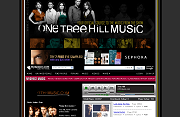 Make sure you add the Official OTH Music Guide on MySpace! Get quick updates about music on the show, exclusives, and check out some of the scores from seasons three and four from composer John Nordstrom!