#1.01 - "The Places You Have Come To Fear The Most"
Prod. #177501 (Original Air Date - 09/30/2003)
Lucas blows his first Varsity game and decides to quit the team. The wedge between Nathan and Peyton continues to grow after Peyton tires of Nathan's jabs at Lucas. Meanwhile, Keith forces Karen to deal with her feelings for Dan after she refuses to step foot in the high school gym to support her son.


"She's Got It So Phat" - Bosshouse
Album: Female Alt Rock Series 1
Official Site: http://www.bosshousemusic.com
Listen: Download Clip

(right click + "save target as")

Scene: Peyton and Brooke talk while listening to music in Peyton's room.



This song is also heard in episode #1.06.


Music from this company can also be heard in episodes #1.00, #1.02, #1.03, #1.06, #1.07, #1.15, #1.21, #1.19, #2.02, #2.20, #2.23, #3.08, #3.07, #4.08, #4.14, #4.16 & #4.17.
[ OTH MUSIC @ MYSPACE ]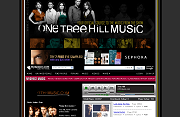 Make sure you add the Official OTH Music Guide on MySpace! Get quick updates about music on the show, exclusives, and check out some of the scores from seasons three and four from composer John Nordstrom!