#3.22 - "The Show Must Go On"
Prod. #2T6172 (Original Air Date - 05/03/2006)
On the eve of their wedding, Nathan worries for Haley's safety while Peyton and Brooke's friendship is tested. Deb tells Dan the truth about the dealership fire, and Karen finds herself needing Keith more than ever.

"Babe I'm Gonna Leave You" - Led Zeppelin
Album: Led Zeppelin 1 (Atlantic / WEA)
Official Site: http://www.ledzeppelin.com

Scene: CODA - Season finale cliffhanger.

NOTE: Having a Led Zeppelin song played on One Tree Hill is truly television history in the making! Never before have they licensed their songs for network television!!! The only time was for the HBO cable series "The Sopranos" and if you understand how all that works, you'll know what a big difference cable television is. It's a huge deal for OTH, something only a great television show could manage to pull off! :)
[ OTH MUSIC @ MYSPACE ]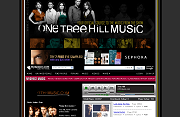 Make sure you add the Official OTH Music Guide on MySpace! Get quick updates about music on the show, exclusives, and check out some of the scores from seasons three and four from composer John Nordstrom!