2-HOUR SERIES FINALE EVENT: One Tree Hill
AIRING: Wednesday, April 4, 2012 @ 8pm on the CW

In the final chapter of One Tree Hill, the tenth anniversary of TRIC brings old faces and new possibilities for the Tree Hill family.
Welcome to One Tree Hill Music, your official guide to the music heard and performed on the hit CW drama. Search through a comprehensive catalog of songs that help bring One Tree Hill to life every week. Make sure to check out the detailed Music by Episode guide where you'll find everything from recording artist information to the exact scene description/episode their song was heard in!

OTH Music also includes soundtrack information, as well as fun features such as Character Mixes and Episode Title References where you'll find the songs that inspired the titles of your favorite episodes. All this and more you'll find here at OTH Music. Enjoy your stay!




WAKEY!WAKEY! Almost Everything I Wish I'd Said The Last Time I Saw You...

NOW AVAILABLE ON iTUNES & AMAZON!

LAURA IZIBOR _
Born in Dublin, Laura Izibor crosses over into the states with her debut album "Let the Truth Be Told" which the singer released the spring of 2009. Laura has had music featured on three motion picture soundtracks, she's been heard on numerous television shows, and she was nominated for a Soul Train Music Award.

This year the singer/songwriter and pianist will step into the acting aspect of her career when she joins the cast of "One Tree Hill". Prepare to be amazed by the soulful sounds of this young songstress.
Official MySpace

EVERLY ____ _
Series cast member Bethany Joy Galeotti has been lending her voice to the OTH music catalog since season one, and while the actress/singer-songwriter continues to do so - she doesn't do it alone.

In 2008 while at home in Battle Ground, WA - Joy joined musician Amber Sweeney and created the duo EVERLY.

We got to hear a lot from Everly this past seventh season, and hopefully we'll continue that well into season eight. Official MySpace



SUSIE SUH "In the Moonlight" as heard in episode #7.21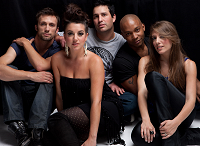 Los Angeles based indie pop/folk/soul band, SO & SO, is anything but ordinary.

When singer/songwriter, Amie Miriello, acoustic guitarist, Jay Dmuchowski, and Canadian producer, Rob Wells meant to put a songwriting team together, something else happened that grew far beyond their intentions. In December of 2009, Miriello and Dmuchowski traveled to Canada to write and record with
Wells. Once they completed a set of ten songs, they realized they had a collection of material that transcended traditional pop.

Amie decided she wanted to put a band together to showcase their work. As a long time Miriello collaborator, Raisin (Dmuchowski's nickname) agreed and they began the search for members to create a new kind of indie pop super-group. While playing the local LA music circuit, Amie and Raisin met drummer, Adam Hanson. They asked him to play some shows and felt an immediate connection. Hanson's infectious, soulful style provided the backbone and strength that further helped define the band's sound. In February of 2010, Hanson officially joined as the first new member of the group.

Shortly thereafter, Miriello had a chance encounter with Brandon Rogers (Vocalist/Keyboards), a Top 12 finalist on Season 6 of American Idol with an impressive singing/songwriting resume as well. Brandon opened for Amie at Molly Malone's in LA when they decided to perform a couple songs together. Like Miriello, Rogers was wholly focused on his solo career, but realizing their vocal chemistry was something special, he accepted her offer to join SO & SO without hesitancy.

Rounding out the SO & SO family, bassist Bana Haffar followed. Joining the band in September of 2010, Bana's eclectic, cross-cultural style of playing embodies all that is the SO & SO sound – new, fresh, forward and innovative.

Their highly anticipated forthcoming album, ASAP, will be released in the Spring of 2011.



SO & SO can be heard in episodes #7.14 & #8.14.


Download SO & SO's version of Gavin DeGraw's "I Don't Want To Be" on iTunes!
MUSIC BY EPISODE
If you're on the search for a song featured in an episode, even if only for a few seconds, look no further! Find all the songs played on One Tree Hill with a detailed episode guide. You'll find artist/song, purchase and web links as well as scene descriptions of where you heard it.
launch


THEME SONG KARAOKE
In an innovative twist for season 8, after a 3 season hiatus, Gavin DeGraw's hit "I Don't Want To Be" returns as the theme song for One Tree Hill with a unique cover by a different singer or band each week. Want the line-up? Get it now! launch


OTH CHARACTER MIXES
Now you can make your very own mixed tape... or CD with our Character Mixes. Go ahead and pick which characters playlist you wanna mix! Is it Peyton? Lucas? Haley? You decide! launch


PERFORMANCES
Check out all the great One Tree Hill performances from over the seasons! Whether it be from the talented cast or whenever Peyton books a famous entertainer that stops by TRIC to rock Tree Hill! launch
PEYTON'S PODCAST _ _
Bring Peyton's world into yours by listening to all of her podcast in their entirety. Get an in-depth look of her life in Tree Hill. Peyton comments on everything from her friends to Ellie, her mom. proceed

"THE MIXED TAPE" VIDEO __
Check out OTH's Hilarie Burton in the 2006 music video for "The Mixed Tape" by Jack's Mannequin. You can find the song featured on the second One Tree Hill soundtrack, Friends With Benefit! watch it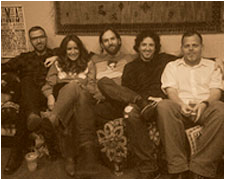 Each and every season we fall in love with a new song or a new band, but we're always pleasantly surprised when we hear from an artist that we remember from the beginning episodes of the show. The season seven finale, episode 7.22, closed out with a multitude of just that.

Series creator and executive producer Mark Schwahn closed last season with an original and heartfelt CODA, "Carry You Home" by Nashville Skyline. The one-time band was made up of the musicians Matthew Ryan, Courtney Jaye, Michael Grubbs of WAKEY!WAKEY!, and Dallas Green of City and Colour. Featured on bass guitar? None other than Mr. Schwahn himself.

The song was featured during the montage of scenes showing the friends sliding down the hill while in Park City, Utah before ending at the cliffhanger. "I had been trying a lot of good songs to the final sequence of the One Tree Hill season finale, but nothing seemed to work perfectly. Melodies would work, but not lyrics. And vice versa. Plus, the sequence was over 7 minutes long, which is a bit limiting musically these days." Mark says.

Well, as the old saying goes, "If you want something done right, you have to do it yourself." Mark wanted it done right, and so with the help of a few of his musician friends and OTH favorites--it was done right.

The soft melodies and powerful lyrics will stick in OTH musical history forever. Make "Carry You Home" a part of your iPod history by purchasing the song on iTunes today!




Nashville Skyline's "Carry You Home" can be heard in episode #7.22. | Watch Nashville Skyline in the studio!
[ UPDATES ]
April 4, 2012 : 1:00pm
The music list for tonight's final episode #9.13 has been added.

The A-Z List was also updated.

Goodnight One Tree Hill.

March 28, 2012 : 1:01pm
The music list for episode #9.12 has been added.

The A-Z List was also updated.

March 21, 2012 : 1:01pm
The music list for episode #9.11 has been added.

The A-Z List was also updated.

March 14, 2012 : 12:31pm
The music list for episode #9.10 has been added.

The A-Z List was also updated.

March 7, 2012 : 1:16pm
The music list for episode #9.09 has been added.

The A-Z List was also updated.

February 29, 2012 : 12:31pm
The music list for episode #9.08 has been added.

The A-Z List was also updated.

[ TWITTER ]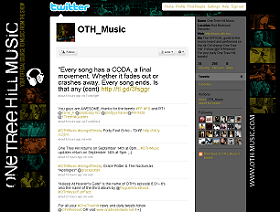 We're now on Twitter! Make sure you FOLLOW US @OTH_Music for all your latest music updates!
[ FEATURED VIDEO ]

Watch as cast members of One Tree Hill talk about the third soundtrack, the importance of the shows connection with music.
[ OTH MUSIC @ MYSPACE ]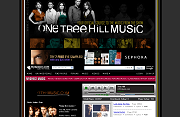 Make sure you add the Official OTH Music Guide on MySpace! Get quick updates about music on the show, exclusives and check out some of the scores from seasons three and four from composer John Nordstrom!